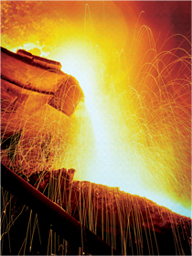 Pearce Foundry, located just outside Baton Rouge, Louisiana pours iron, steel, stainless steel, high alloy, and ductile castings. Occupying a 10-acre industrial site with more than 54,000 sq. ft. under roof, Pearce Foundry utilizes three induction-melting furnaces with capacity up to 12,000 pounds. Pearce Foundry pours high alloy, abrasion-resistant wear metals and specializes in engineering castings where toughness and durability are key.
Certifications
ABS Certification

Pearce Pump is a full-line supplier of centrifugal pumps and parts and is an aftermarket manufacturer of products for equipment originally manufactured by OEM's such as Pearce, Istrouma, Metso/Thomas, Amsco, Morris, Pekor, Shaw, GIW, Ellicott Dredges, Warman, Toyo and others.

Located in the panhandle of Texas, Pearce Foundry West has two automated pouring lines, a green sand molding line as well as a no-bake line to handle high volumes of small castings. Some of Pearce Foundry West's specialties are cutter edges, grinding mills, log washer paddles, oil field parts, boiler and furnace parts, crusher parts and castings for the mining industry. With the ability to pour castings from 2 to 1,500 pounds, Pearce Foundry West can be the solution to your small casting needs.